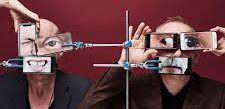 The Orb's latest single, "Prism," is an entrancing journey through electronic music that showcases the duo's forward-thinking production skills and eclectic sensibilities.
Formed in 1988 by Alex Paterson and Dr. Alex Fergusson, The Orb has been one of the most important pioneers of ambient music since the early days of rave culture.
"Prism" begins with a gentle, ethereal intro that sets the tone for the song and quickly transitions into pulsing basslines and dreamy soundscapes. Along the way we are treated to a variety of subtly layered textures that provide the perfect backdrop for Paterson's thoughtful lyrics.
The track's theme of optimism and positivity is reflected in its soaring synths and sweeping pads, creating a lush atmosphere that captivates the listener from start to finish.
At times dark and brooding, at others uplifting and euphoric – this 6-minute opus successfully blends elements of electronica, ambient music, IDM, and even psytrance into one cohesive sonic tapestry.
With over three decades worth of experience producing influential electronic works, it's easy to hear why they remain an iconic act in the genre: "Prism" is sure to please both long-standing fans of The Orb as well as listeners who appreciate cutting-edge contemporary electronica. All things considered, it may just be their best song yet!