I know I usually title these interviews with some stupid pun or play on words. This interview with Will really gave me a great understanding of where the band came from and how they got to be one of the best bands around. I think you all will enjoy it too!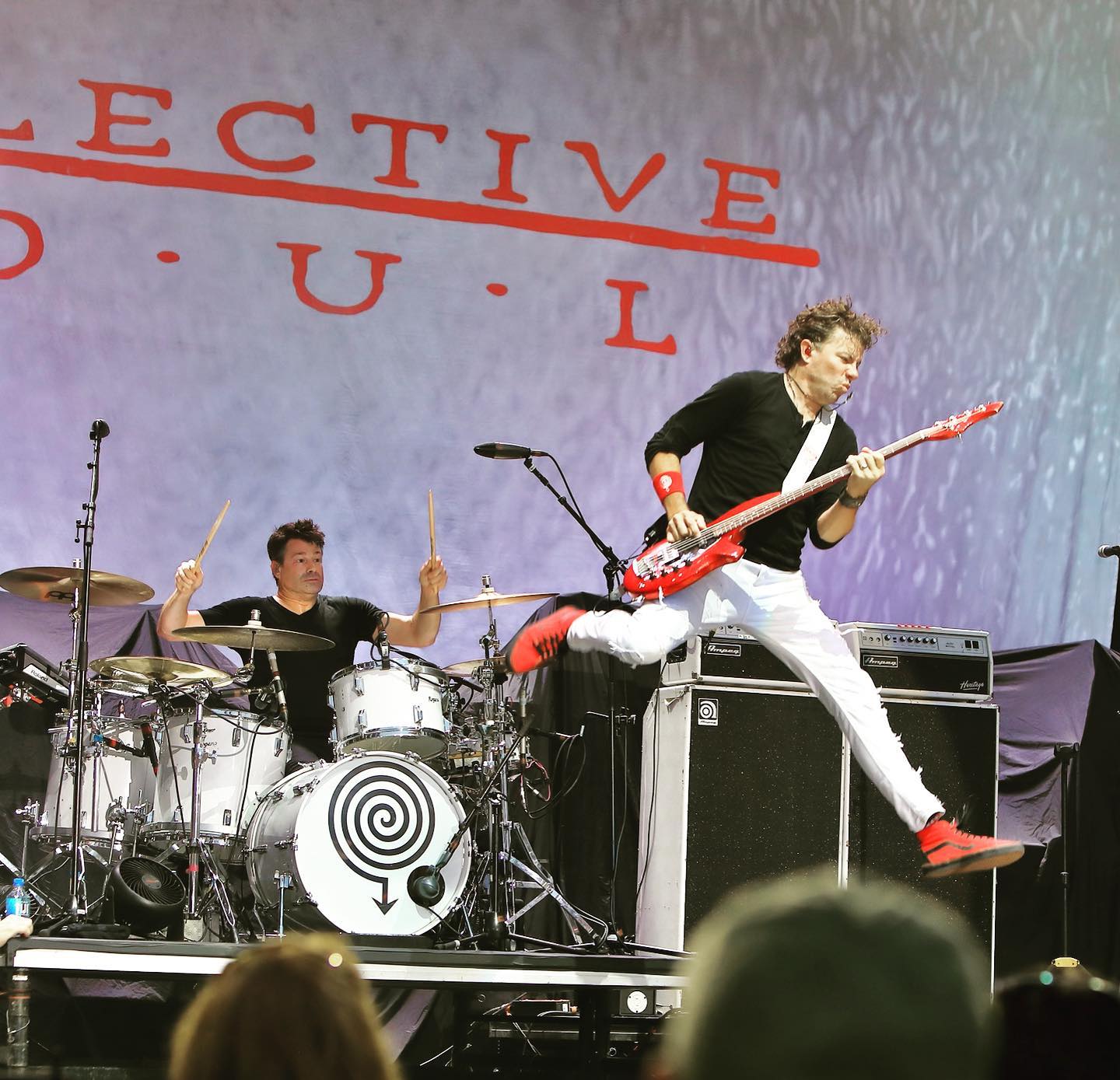 TEN QUESTIONS WITH WILL TURPIN OF COLLECTIVE SOUL
Rob – Thanks Will for taking the time for this interview. We don't like to limit anyone's notoriety or put your career in a box, but besides your solo work, most people know you from playing bass for Collective Soul. How did your involvement in the band come about?
Will – That's a good question because I'd like more people to understand where CS came from. To say we are a small-town story is underestimating the depth of how we came to be. We grew up in a suburb of Atlanta, Stockbridge, Ga. I've known Ed and Dean my entire life. Their father was the preacher and music minister at First Baptist church. My grandfather knew Mr. Roland from before I was even born. When my father opened Reel to Real studios in 1976, It was built in the bottom floor of my grandfather's 1949 home in Stockbridge. Ed was engineer at R2R starting around 1983. As my friends and I (including Shane Evans, Ross Childress, and Dean Roland) started recording, we got to become fans of Eds music. It's a long story but to paraphrase, when we started graduating high school one by one, we all found our way into Ed's band. I was the last to join. I was focused on a music performance degree and had little faith in becoming a "rock star". When the original line up was secured, we knew we were the strongest version of CS that we could imagine. Chemistry is everything!
Rob – Focusing on your solo work and your band The Way. Where does the name come from?
Will – It's just a play on words from the saying… "Where there's a Will, There's a Way!"
Rob – Ha! That's great. It seems from reading some of your bio that recording music is in your blood with your dad having opened Real 2 Reel Studios back in the 70's. Did he influence your music and the way your own label, Gooey, approaches recording?
Will – My father is a big part of who I am and how I approach the recording process. He taught me a lot from my earliest days. I was recording drum tracks at R2R for singer/songwriters by 14 years old. I watched every type of music come thru the studio… Bluegrass, Rock, Country, soul, R&B… I grew an appreciation for it all and for the process of recording music. We are not the same band without the opportunity my dad gave us to learn.
Rob – So, you go from joining CS in 92/93 to having your first album break out in 93. That seems like going zero to 60 in no time. Did it seem like a whirlwind? Or did you feel like you were watching the success happen in slow motion?
Will – The way that the first record came to life was different. It wasn't all recorded as a "band album". Ed was going to promote himself as a songwriter, so some of the songs are more of a songwriter demo vibe. We were still a band, and playing around Atlanta, but we didn't intend for Hints, Allegations, Things Left Unsaid, to be a band record. It's hard to explain, but having R2R studios as our playground, recording was happening all the time. When Shine took off, we were not even signed to Atlantic Records yet. So, when we signed with Atlantic, there was no time to re-record. That being said, in 1994, when we were shot out of a cannon from Atlanta to the world, we were focused on rocking the live shows, and more importantly, getting back in the studio and recording a proper "Collective Soul" record. It wasn't a whirlwind because all we could focus on was showing the world how much more there was in the well. We felt like we had so much more to prove and couldn't wait to get on with it.
Rob – The recent album "Vibrating" was just released a few weeks ago. Was this album a product of the lockdown? Or were you planning it for some time?
Will – The recording of Vibrating was mostly in Fall 2019. so, actually the pandemic stopped the release. We got final mixes in 2020 and didn't feel ready to release it until we could get on the road and support Vibrating. I'm REALLY proud of this one, the energy we captured is tangible.
Rob – We are playing your first release right now off the album on the Masters Radio stream. "All Our Pieces" debuted at number 4 on the list and it looks to have some staying power. Are you one to ever follow the charts?
Will – In the early days of your career charts are almost all that matters. We would look at radio and sales charts weekly thru the 90's. I still like to hear of the success we have but I don't follow the charts anymore. It's important to be successful, and charts can be a reflection of that, but I am secure in our process and the fan base.
Rob – Without insulting the rest of the band, or go ahead if you want to, the interviews we have had include a lot of drummers and bass guitarists. Why do you think that you guys are willing to talk to us? Be kind!
Will – I think a lot of drummers and bassists tend to be the grounded ones and want to make sure details are preserved…. or performed 🙂
Rob – You are more than just a bass player. You are skilled at playing several instruments. If you could trade spots with any band member and play THEIR instrument, which one would it be and why?
Will – That's easy… put me on the piano. Piano is my first instrument. Actually, even if I am playing guitar or bass, in my mind I'm looking at a keyboard.
Rob – Now that I have put you on the spot with a couple of questions, let's try something that won't get you a wedgie from the bandmates while on tour. Is there a song that you have haven't yet recorded that you would love for your friends to record?
Will – There are some relics that have been left by the wayside over the years. Maybe I'd go back and re-record some of those. Balloon is a song that comes to mind. We recorded that song in late 90's but it never made a record. Maybe one day???
Rob – You all spend a LOT of time touring with different bands. Which other band do you enjoy touring with? Don't say all of them because we know they are ALL great.
Will – HAHAHA! and who knows which one of my musician friends will be reading this! But this one is easy too. The most impactful tour of our career was the Van Halen Balance tour, 1995. I can't give enough credit and love for what those guys did for us. I cherish every memory of that tour and know that EVH and Sammy changed how we deal in this industry. They also taught us how to treat your bands that you share the stage with. We still get to share the stage with Sammy and The Circle (which includes Michael Anthony). Those shows are special, lots of love and memories.
Rob – Thanks Will for doing this interview. Let us know the next time you are swinging by Masters Radio, and we can do a sit down, recorded interview with you.
Will – Thanks Rob! This is great! Looking forward to seeing what Masters Radio will do!