We recently had the chance to talk to Joel Hoekstra, while on tour with Whitesnake in Europe.
TEN QUESTIONS WITH JOEL HOEKSTRA OF WHITESNAKE/CHER/TRANS SIBERIAN ORCHESTRA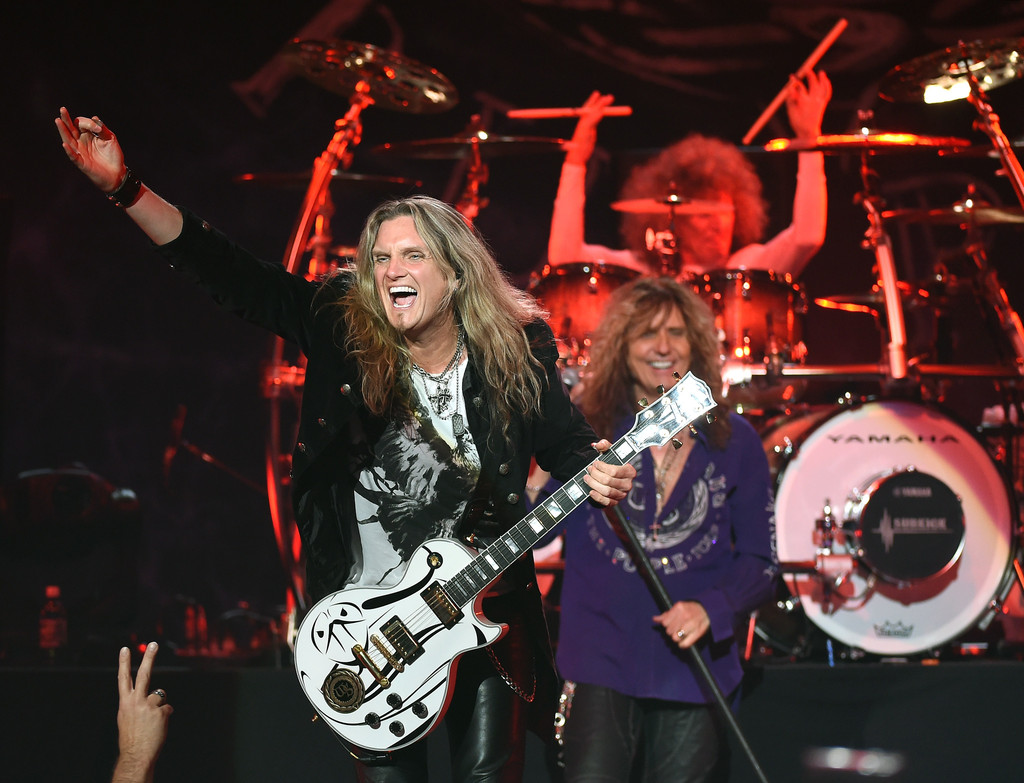 Rob – You have performed as a solo artist and as a part of famous bands. Whitesnake has an established worldwide following. How have fans accepted you in your role in Whitesnake?
Joel – Overall, it's been great.  Whitesnake has a long history of great guitar players, so there's always some debate, but that's also part of the beauty of it.
Rob – Masters Radio plays new music from artists and bands established twenty years ago or more. How has the promotion of new music, like Whitesnake's new album "Flesh and Blood", changed over the past number of years?
Joel – Well, obviously file sharing, streaming, and social media have all been game-changers for the music industry.  I just try to concentrate on what I can control and work as hard as possible to be productive on a daily basis.
Rob – Many concerts by established bands only play their hits. How do you make sure your new music is listened to?
Joel – Sharing the singles on YouTube has become a standard with Whitesnake's label Frontiers SRL and through that, we share on the band's social media and our individual social media's to get the word out.  Playing the songs live while on tour is an obvious method as well.
Rob – What musical groups were your inspiration when you were first starting your career?
Joel – I started out very much into hard rock/heavy metal as a kid.  AC/DC, Black Sabbath, OZZY, Iron Maiden, Scorpions, Dokken.  Eventually, I grew to like melodic rock bands like Journey, Boston, Foreigner.  Also classic rock bands like Led Zeppelin, Pink Floyd, Jimi Hendrix.  I'd also say progressive bands like Rush and Yes as well as guitar heroes like Steve Vai, Steve Morse, Yngwie Malmsteen.
Rob – How have the concert crowds changed, and do you see a difference in the multiple countries you perform in?
Joel – Well, I was just a kid during the 80's so I've really ridden the wave of the revival to a degree.  So, it's an older demographic, some of whom have introduced their kids to the music, so basically, instead of everyone being 15-25, it's now 10-60.  Haha!  Yes, there are definitely differences in audiences when you tour.  Cultural differences are represented at music concerts, just like everywhere else.
Rob – Without trying to insult you, none of us are twenty years old anymore. How do you keep yourself in shape while on the road?
Joel – I work out basically every day.  Diet can be tricky, on tour but when I'm at my best, it's no processed sugar or salty snacks.  I try to eat 2 good meals a day and fruit for snacks.
Rob – If you had to name three of the Masters of music from our generation, who would they be?
Joel– Tommy Emmanuel, Stevie Wonder, Pat Metheny, Chick Corea are names that come to mind first, but there are certainly many out there…
Rob – What venue has been your very favorite to perform?
Joel– I don't really have one.  My favorite is always the next one.  I'm taking this all day by day and staying in the moment
.
Rob – Who are you listening to right now that you think will be a future Master?
Joel – I am the WORST with listening.  I perform live with Whitesnake, Cher, Trans Siberian Orchestra as well as other acts, so basically I'm always reviewing/learning sets of music.  I almost never listen for enjoyment anymore.  Sad, but true.
Rob – Is there a song that you have heard in your career that you wish you had recorded?
Joel – Sure, just about any hit song there is!