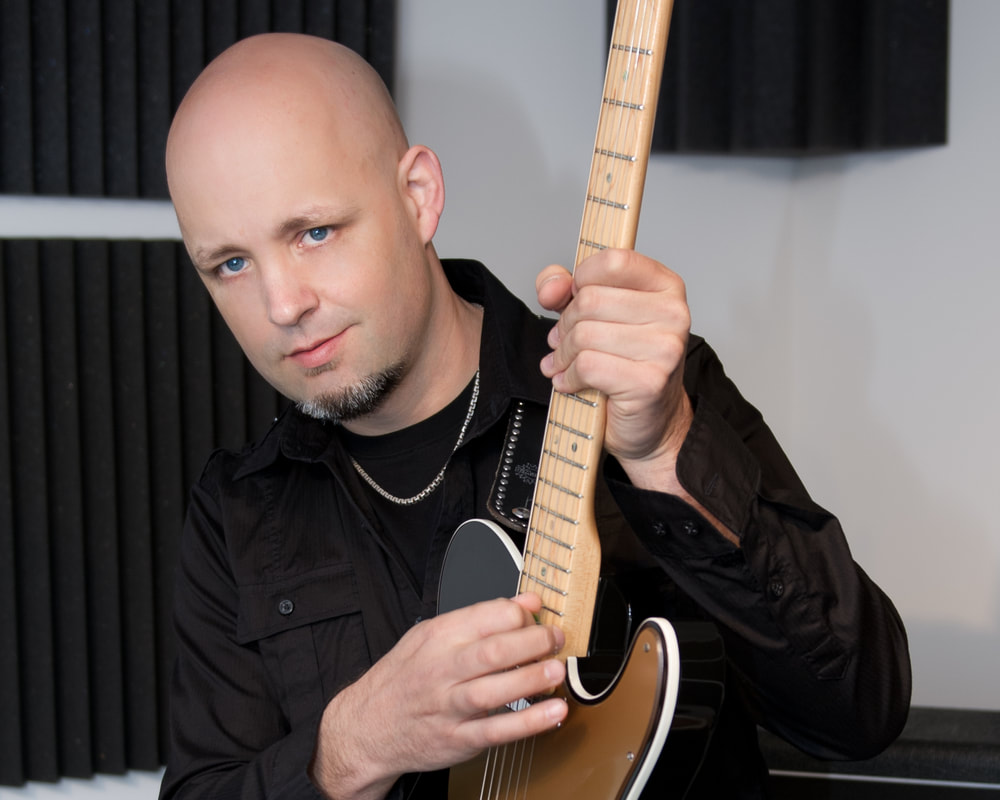 TEN QUESTIONS WITH JUDE GOLD OF JEFFERSON STARSHIP
Rob – Thanks Jude for letting us see into your world a bit. You have been a member of Jefferson Starship for several years now. However, your past is amazing from playing with 2 Live Crew to the Jerry Garcia Band to Kristin Chenoweth. If you had to pick one constant in your career in playing for these much different ends of the music spectrum, what would it be?
Jude – Well, if there's one thing I love about the electric guitar it's that it's capable of delivering an infinite number of sounds, textures, and grooves, which means it can be played in so many different genres of music. In other words, if you love all styles of music, you'll never, ever be bored playing guitar.  
My brother sailed around the world on small sailboats, and I kind of think that musically speaking — having played with a variety of artists — I've sailed around the world, too, but with the guitar as the vessel. And I guess I've been lucky in that the guitar has taken me around the actual world, too. Touring with Jefferson Starship, I've played five continents, and I'm very thankful for that.
Rob – You are well known in the music industry as a contributing writer/interviewer to several well-known publications. Is there an artist you have interviewed that has surprised you or changed your opinion of them?
Jude – People are full of surprises — that's why we interview them, right? I mostly interview guitar players, and I've done stories on hundreds of them since starting with Guitar Player magazine 20 years ago, and I always lean so much. Sometimes the interviews are in person; nowadays, during lockdown, Zoom interviews are the norm. The best place to find my interviews nowadays are on my podcast, No Guitar Is Safe.
Personally, one of my biggest thrills was interviewing AC/DC guitarists' Angus Young and his late brother Malcolm some years back, as it was seeing them a million years ago, when I was just 12, that showed me the power of the electric guitar and changed my life from that night forward. But I also thrill at interviewing the pro guitarists behind the scenes — the session players and side musicians who are on hit records and on huge tours with major artists yet are musicians that most fans can't name. I love hearing their stories, too.
Rob – Currently, you are a member of Jefferson Starship. We are featuring the song "It's About Time" in our stream rotation at www.mastersradio.com (blatant commercial?) A lot of JS fans have been following for decades. So, how have you been received by them?
Jude – Thank you for playing our song. I am so happy to have written a hunk of the music for that song, because the lyrics and vocals are all Cathy Richardson and the great Grace Slick — two of my favorite singers and songwriters! As you probably know, Grace no longer sings with the band, though I was at one of her art showings about a year ago, and she was holding court at the gallery, taking questions, and she was at one point talking about show tunes or something and, with the mic in her hand, she spontaneously sang a couple lines a cappella, and we all got chills. She sounded great. She should do a new solo record, I think, but her amazing art keeps her quite busy — she's a great painter.
We're just happy that, when there isn't a pandemic happening, Grace comes to our shows now and again to say hi, or occasionally goes out to dinner with us and her amazing daughter, China Kantner Isler, who also hangs with us a lot. China usually does hop on stage with us and do some singing, which is always exciting for us and the crowd.
Rock fans nowadays, I'm thankful to say, usually seem to give us a warm reception, because although none of us are in our twenties anymore, it sure feels like we are when we're on stage. I'm not kidding. We don't hold back. The five of us, with David Freiberg and Cathy handling the lead vocals, play our hearts out and bounce around the stage and do our best to make audiences feel involved — and thoroughly rocked. We make sure no patron leaves a Jefferson Starship show unrocked!
Rob – Of course, as we write this interview, we are in the throws of the Covid-19 pandemic. Artists are not able to tour or play to large crowds right now. How have you kept busy during our quarantine?
Jude – A lot of Zooms, Rob, a lot of Zooms, ha-ha. We have recorded a bunch during lockdown, too, including three wild re-imaginings of Beatles tunes, which should be released in the next couple weeks. We've also played a couple of social-distanced concerts and done videos, like our lockdown version of the great Jefferson Airplane hit "Somebody to Love." Even though we all filmed our parts remotely, I believe you can feel the lock we have, musically, when you watch it, because we've performed that song together hundreds of times over the years.
Rob – In today's music world, a lot of artists are making it big who do not play an instrument and, in some cases because of autotune, cannot even sing. What must change IYO to the industry to get the next generation to pick up the guitar and learn how to play?
Jude – The guitar is very much alive right now. Head to Instagram and you will find more amazing, talented, and inspired guitarists posting spectacular guitar videos than you can possibly keep track of. Everyone's learning from each other and building on the contributions of those before them. Tons of incredible female players, too. More than you can count. It used to seem that guitar was a more male-dominated pursuit. Well, no more!
Guitar is quite healthy. In fact, Fender, one of the world's biggest guitar companies, had their biggest sales year ever — ever! — this past cycle, and guitars are returning to mainstream albums left and right. There may have been a bit of a "valley" for a few years, but guitar is the ultimate song delivery mechanism — it works around a campfire or onstage in a sold-out arena — and I think it's about to enjoy another peak in popularity.
Rob – Jefferson Starship is a "generational band" meaning there are different generations that now make up the band and multiple generations that now make up the fan base. There are purists that will say "that's not the REAL Jefferson Starship because ________ isn't with them." How would you answer these folks in a way that includes them in the band's future?
Jude – Well, first, founding member David Freiberg, is in the band, and he's the only person who has been on every single Jefferson Starship studio album, including our latest, of course — 2020's Mother of the Sun. And he is the main writer on the band's biggest song, the radio classic "Jane." Watching him sing "Jane" at 82 years old — I mean his voice is strong, and he kicks ass on that song! — is worth the price of admission alone. David was also in Jefferson Airplane during the last year it was called that. And then there's Donny Baldwin, who first joined the band around 1982, making him a historical member, too, if not an original one. Donny was also in the more radio rock era of the band, when it became Starship for a few years. He played on monster '80s hits like "Nothing's Gonna Stop Us" and "We Built This City." He's a great singer, too, as he sings a lot of the high parts. He's our secret weapon.
Plus, on the new album, you also have original member Pete Sears on three songs, a Grace co-write, as mentioned, and the rest of us, who were founder Paul Kantner's band up until his passing in 2016. We hit four continents with Paul, including faraway places like Alaska, Tel Aviv, Sãu Paulo, and Tokyo. Paul's spirit of adventure and exploration is still very much with us. Chris Smith, our keyboardist, has been in the band somewhere near 25 years! And Grace invited Cathy to sing in her stead with Jefferson Airplane when the Airplane got a Grammy Lifetime Achievement award. If anything, I'm the brand-new guy — I've only been onboard, eight-and-a-half years. I think that's longer than the Beatles were together, but, in this band, that's just a drop in the bucket, ha-ha.
Rob – Our readers like the fun things that our artists have encountered in their careers. So, we try to include a question or two staying true to that expectation. Is there a place or time when you have been on stage and thought "wow, I can't believe I'm here"?
Jude – Sometimes it could be a physical location thing — like last year, doing a series of outdoor summer shows in New Zealand on a bill with Toto and Dragon. So perfect, you thank your maker that you're allowed to rock out in such great settings. But whether it's at a festival or at a dive bar, I think I speak for most guitar players when I say that I am most thankful for those nights when the sound is great, the crowd is great, and the music just seems to be funneling into your hands from some place above. You try something wild on the guitar and it works. Those nights, you're having as much fun as a surfer catching a perfect wave. Those are the nights you think, "Wow, can you believe this 'wave'?"
Rob – Once the touring world opens back up, is there a place or venue you would like to play?
Jude – Red Rocks Amphitheatre in Colorado, I'm looking at you!
Rob – Do you have a chance to make any suggestions for tour stops?
Jude- I've suggested we perform an official gig in North Dakota. I have played the other 49 states. One left!
Rob – Finally, what can we expect from you in the next few years?
Jude – Jefferson Starship believes quite strongly that, contrary to widely published assertions that "less is more," in actuality, more is more. And that's what we will deliver you. More shows, more videos, more music, more collaborations, and more energy. Coming atcha! Let live music return in 2021.