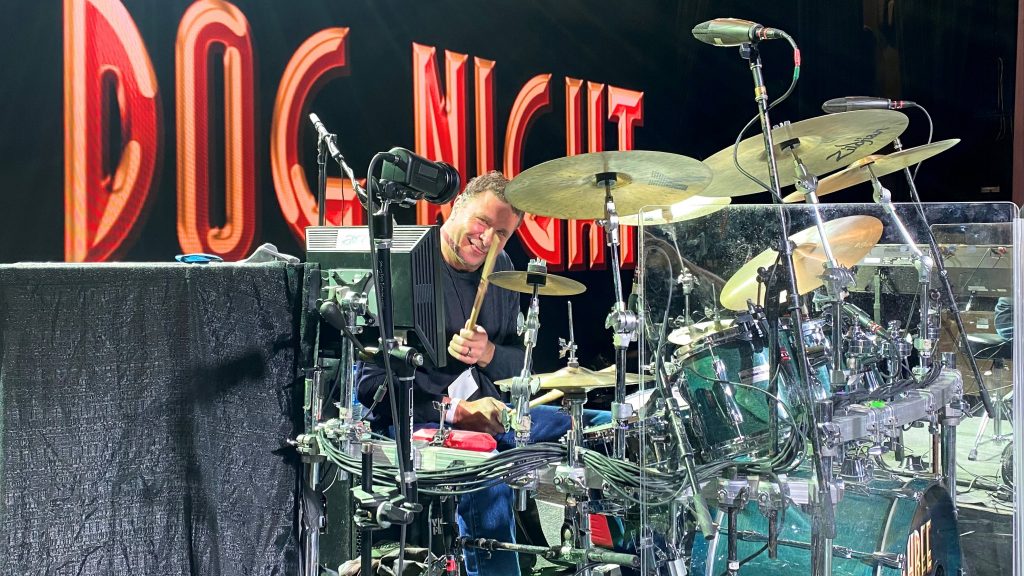 TEN QUESTIONS WITH Pat Bautz
Rob – Thanks Pat for joining us for our Ten Question series. As you know, we SOMETIMES stick to Ten questions and can sneak an Eleventh question in every once in a while. Next to Danny Hutton, who I believe is the only original member, and Paul Kingery, who joined in the 80's, you are the longest serving member of the band. How did you come to join the group?
Pat – My buddy Rob Swenson got a call from Three Dogs agent, Robert Norman. Rob had known Robert from his time as Air Supply's keyboard player. Rob recommended me for the drum chair. I also had met Cory at a club in North Hollywood. I auditioned with about 50 other drummers, and I got the gig. Must have been my jokes.
Rob – We looked back at your past album releases and saw that there is a TBD listed for a future album called "The Road Ahead." Is this album still planned on being released?
Pat – It's coming and there are some great songs on it.
Rob – If I were to mention "Three Dog Night" to most people under the age of 40, they would be hard pressed to remember the band name. Although, if they heard your songs, they probably would know most of them and could have sung them in school. Do you think there is a bridge between the band, the music, and the fans that needs to be rebuilt?
Pat – Most people can't name anyone in the band either. That hasn't had any effect on us. We couldn't ask for better fans. We love them like family.
Rob – I understand that the band returned to touring last year. How has your tour schedule changed since coming back from the lockdown?
Pat – Not much difference we try to take a week off a month.
Rob – As far as being a successful band, there are very few throughout the history of popular music that have had more than one gold record. You guys have had TWELVE! We know the difference between record sales now and then, but do you believe there is a way for bands to realize the same type of success today?
Pat – Most signed artists today have 360 deals with record companies. The record company gets a percentage of everything concert tickets, merchandise etc.
Rob – So, records may be better?
Pat – Because the streaming services pay so little often hundredths of a penny per stream records are really calling cards and not nearly as profitable as they were before streaming.
Rob – Many of your fans don't realize that some of your songs were written by Harry, Nilsson, Randy Newman, Elton John, and Paul Williams, to name just a few. While the style of the band has covered many genres, is there a writer you think can be called the "voice" of the band?
Pat – In my humble opinion Hoyt Axton
Rob – Some people don't remember that you have performed at TWO Super Bowls. Who would you like to see headline the Super Bowl halftime?
Pat –There's a bunch of artists I'd love to see but Dua Lipa would be at the top of my list.
Rob – If you got the chance to cut a new record with a current band of today, who would it be and why?
Pat – Being a jazz funk guy at heart Snarky Puppy would be my first choice if you get a chance check out Cory Henry's keyboard solo on Lingus. He's a monster!
Rob – Thanks again Pat for the chance to interview somebody from the band that could have been my soundtrack growing up. Many car trips were taken with me "singing" in the backseat some of your songs. My last question is, what is left for you to achieve musically that you haven't in your storied career?
Pat –  I love to play and make people smile. I'll take more smiles!