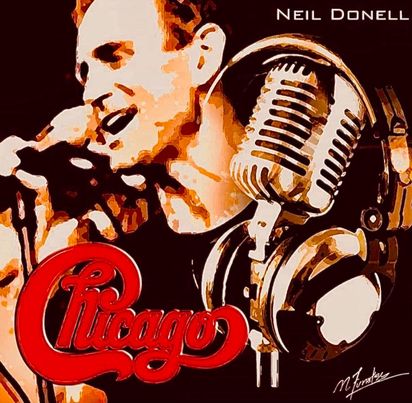 We Know What Time It Is Chicago And Good To See You Again
TEN QUESTIONS WITH Neil Donell
Rob – Thanks Neil for taking the time for this interview. Chicago is one of our all-time favorite bands and we are very happy that you joined the band. You had a litany of lead singers involved with Chicago over the years. How have you put your own stamp on singing the hits?
Neil – Yes, and thanks for inviting me. So, this is a question that everyone who replaces someone who is iconic and recognized has to face and deal with. How do you stay true to the original recordings which are indelibly stamped on the consciousness of so many fans yet bring a little bit of your own style and sound into the mix. In the beginning I was very cautious about interpreting the performances at all because these songs mean so much to so many people including myself. I also believe that one must be respectful to these performances and that factors into my approach. That being said, overtime the principles in the band that being Robert, Lee, and Jimmy, got to know my style and realized that I would only imprint my style and do interpretive things and the songs that I thought were appropriate and musical. So, at this point in time, I pretty much have a great deal of license to just be myself which I am grateful for and do not take advantage of at any time.
Rob – You joined the band in 2018 and then the world shut down soon after. Did you get a chance to perform with the group pre-pandemic?
Neil –2018 and 2019 were extremely busy years for the band and we managed to get in collectively around 225 shows during that period as well as a dozen or so in 2020 before the world did shut down as you put it. But you answer your question, yes, I had done a number of guest appearances with a band in 2016 and 2017 before I was officially asked to join the band in the fall of 2017. My first connection or communication with the band came in December 2015 when they reached out to me initially.
Rob – Chicago released Chicago XXXVIII: Born for This Moment a few months ago in 2022. We debuted the single "If This Is Goodbye" as soon as the release was announced. How have the fans been reacting to the album?
Neil – Yes, thanks so much for playing the new single. It got as high as #15 on the billboard AC chart which everyone was very pleased about, having been the first single the band had charted in 25 years. it is going over extremely well live which we are also very happy about as it is always somewhat risky to introduce a new song into a show where the fans are expecting essentially a greatest hits experience.
Rob – Its often hard to join an established band and get your voice heard on any new music. However, it's exciting to see your song writing credit for "Safer Harbours" smack dab in the middle of the new album. Can you tell us a little about how the song and addition came about?
Neil – "Safer Harbours" Is a song that I had written some time ago and has always been a favourite of mine in terms of my own songwriting. On a whim a couple of years ago, I sent the track to Robert and Lee and the bands manager as I thought they might find it interesting and relate to it lyrically on some level. This is something that we all do on occasion within in the band. So, fast forward to when it came time to choose material for the new record, the song found its way to producer Joe Thomas who liked it very much and essentially Jimmy was then asked to write a horn arrangement for it and as the track already existed, it was relatively simple to insert the horn track into the existing track and voila, it was done.
Rob – I read that you have a four-octave range. Does the group travel with a vocal coach? Or do you use a vocal coach?
Neil – Ha! Now that's an interesting question. No, the band does not travel with a vocal coach, and I am a vocal coach and occasionally have lent my expertise to many people I work with. I would think any band that would need to travel with a vocal coach at this point would be because the performers are young and inexperienced. My vocal range has actually increased over the years, and I am extremely knowledgeable in this area.
Rob – Your bio states that you have logged over 10,000 singing sessions in your career. Having a body of work this extensive, we would assume that recording has changed over the years?
Neil – Yes, and I have had to revise that number to approximately 12,000 recording sessions now and not just singing but also voiceover work.
The most profound change in the recording process has been the switch from analogue to digital and of course the various software programs that have made going to an in-house studio virtually obsolete.
Rob – So, a vast singing range and 12,000 sessions would have us believe that there had to be some different singing styles in there?
Neil – Yes, doing that many recording sessions of course involves virtually every genre of popular music. As a session musician/singer, if you are not adept at covering virtually everything that is thrown your way, you simply do not work very much. I've made my living as a session singer for more than 30 years and have always been a vocal chameleon able to reproduce the sounds and the styles of more than 100 other singers. Essentially, you name it and I've probably done it and in three different languages as well.
Rob – In touring, fans sometimes want to hear their favorite songs performed EXACTLY like they have heard them on the radio. Do you ever mix up the songs a bit with different arrangements?
Neil – Personally, when I'm doing my own solo performances which I like to do when the band is on break to keep my chops up, I do like to switch things around a bit but the band pretty much adheres to the arrangements that are on the original recordings with the exception of a few songs where the arrangement is tightened up for time.
Rob – At Masters Radio, we just posted about an artist's new album of cover songs and talked about how a lot of bands play other artists songs in encores? Does Chicago stray from the band's own songs on tour?
Neil – Since I have been with the band, I have never heard the group play a cover song in any show. I know that there has been at least one cover song recorded some years ago and many years before that the band would occasionally play the Beatles song "Got To Get You Into My Life" as an encore but that's going way back. With a catalogue as deep as Chicago's and so many hits, it's absolutely unnecessary to add a cover song at any time.
Rob – We mentioned that we played the first single off the new album. What are plans for other single releases? BTW the first single debuted at #6 on the Masters Radio Top 100 for June 2022
Neil – Once again, On behalf of the band and myself, thanks so much for supporting the new music and playing the new single. There is another single in the offing that I think will be released very soon but I cannot divulge the title. kind of be on my page if you know what I mean. 😉 It is a song on the record that a lot of people have been suggesting should be the next single so now we wait …
Rob – Thank you Neil for doing this interview. Having been a fan for most of my life (yes, I'm old) it has been an honor and a privilege.
Neil – Hey Rob, thanks for asking me to do this and I hope you got the answers that will work well for Masters Radio.