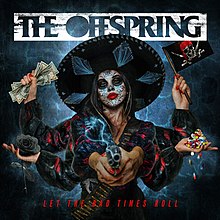 The Offspring's latest release of Let the Bad Times Roll shows their continued effort to stay in the game. The same titled single released earlier in the year made a decent place on the Master's Top 100 list of May, so what's it all about?
To point out the obvious, this isn't the next Smash or Americana, but it is a single with a much cleaner, almost pop-like sound, especially when it comes to the instruments used. It opens with a nice arrangement of acoustic guitar with potential maraca or tambourine. When it goes into the first verse, the pop and Latin influences melt into the classic Offspring sound. Heavy skater punk guitar with heavy symbols and the iconic voice of Dexter Holland. The sing along chorus brings back the Latin pop fusion which actually makes an interesting mix. The song is fun to sing along to, and I have to assume that the lyrics were inspired by the pandemic in some sort of way.
When I first heard this song, it reminded me of some of their early 2000's stuff like Original Prankster or Want You Bad, which is some of their best in my opinion. This new release is trying to harken back to those old California Surf-Boy days, and it does a good enough job at it. I wouldn't go so far as to call it "punk", but maybe you could get away with calling it Skater, or Pop-Punk.
It's a fun song to sing in the car or at work. The fusion of Latin and pop sounds is interesting to see again, and I think The Offspring have put out a good record that makes its place in the charts.
Overall, the Let the Bad Times Roll single is a 7.5/10
It gets dinged a few times for the repetitive pop structure, which makes the song catchy and easy to listen to, but falls a little short for being a strong single. The album itself brings more of what the single offers. Dexter's vocals alone are a good reason to listen to their new music.
-Masters